Traumatic event - panic attack - anxiety - not in control......
Testimonial
February 14, 2019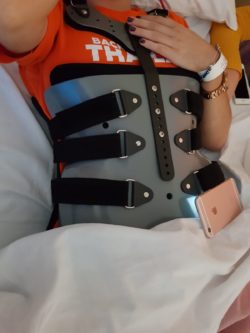 "Following a very bad accident during which I suffered a serious back injury, I had to have an operation which would result in months of healing.
Immediately afterwards I really struggled with the pain. I suffered  from frequent panic attacks and when the time came for me to leave the house again, my anxiety kept getting the better of me. Working alongside my hospital consultant, I had a weekly session with  Antonina in which we worked on the uses of hypnotherapy to get me  through each week. I found the personal MP3 recordings that Antonina made, which were specific to me, really helpful and were perfect to use when ever I felt I needed to.
It's amazing to look back at the progress that I made each week with the help of Antonina, as simple tasks such as leaving the house and walking into a crowded place had become so difficult.
Within a few weeks I was able to take back control.
I would recommend AMendola Hypnotherapy to anyone who has suffered from a traumatic event, anyone who suffers from panic attacks or anxiety, or anyone who feels like they are not in control anymore".
M Fanning – age 21.
Related Information
Study identifies brain areas altered during hypnotic trances
Mind-body Therapies Immediately Reduce Unmanageable Pain in Hospital Patients
Hypnosis to Manage Distress Related to Medical Procedures: A Meta-analysis
Working with hypnosis in children and young people
Hypnotherapy Can Help Manage IBS Symptoms (November 2018)
The Efficacy of Hypnotherapy in the Treatment of Irritable Bowel Syndrome: A Systematic Review and Meta-analysis
Hypnosis for Cancer Care: Over 200 Years Young